Early-Stage Landscape-Where can entrepreneurs look for money?
Being your own boss, calling all the shots, and rushing to achieve your goals – for many people, entrepreneurship is the ultimate career objective.
But as cool as running your own business sounds, it is incredibly difficult.
How difficult? 90% of startups fail.
Lack of funding turns out to be one of the common reasons. Capital is an essential fuel for the long meticulous but exciting journey from the idea to the profitable business. That is why, at almost every stage of a business, entrepreneurs need finance.
The amount of working capital for a business to operate efficiently depends largely on the type of the business, its operational cycle and the entrepreneur's goals for future growth. Common sources of early-stage funding for a startup company include: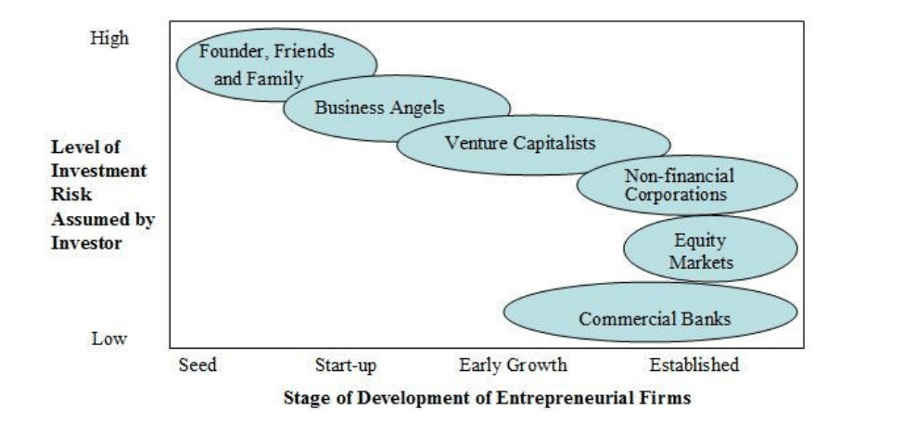 Family, Friends and Fools. During the early phases of company development, entrepreneurs frequently use their own funds or funds given by "friends, family and fools" to get the business off the ground. It can provide critical seed funding. However, make sure that what the company provides in exchange for the money will not interfere with future funding prospects.
Angel Investing. Angel investors are typically affluent individuals who have a personal interest in funding new companies. They are often willing to invest in earlier stages and with smaller amounts of money than VCs in exchange for equity. The best business angels for your company are those who have connections or direct experience in your market or industry, and who can offer your startup more than just money.
Venture Capital (VC). Compared to angel investors, venture capitalists can invest larger amounts of money (usually millions of pounds) in exchange for an equity stake in a company. Venture capitalists tend to actively interact with the management team of startups and often help to find and direct senior management to a startup. Venture capital also usually requires a relatively high annual return on the fund used for investment.
Other Sources of Capital
Start-ups may also investigate and pursue funding from non-traditional sources. Some examples include:
Government/Nonprofit Grants. In some markets, it is increasingly popular for startup companies to receive government or non-profit grants to fund initial product development. The Prince's Trust and Innovate UK Smart Grant programs are usually the most accessible forms of government funding.
Government and nonprofit funding might be attractive since it is "non-dilutive," which means the company does not have to give up any equity in return for the funding, but it does frequently need a higher level of administrative effort.
Crowdfunding. Various crowdfunding platforms allow entrepreneurs to raise funds by combining small investments from a network of individuals. There are several crowdfunding platforms available. Choose the one that best meets your requirements. Certain crowdfunding platforms are focused on funding social innovation. Platforms include Crowdcube, Seedrs, Syndicate Room, Indiegogo etc.
Banks. Traditional bank loans and overdrafts remain a popular source of funding for many startups. Used properly, it provides a simple and effective way to fund the growth of your business. However, make sure to research the different types of loans, the terms, and the interest rates that come with each option.
If you want to grow your business fast, you will probably need external sources of finance. External funding may give you more flexibility while allowing you to take advantage of market opportunities. Thoroughly research each source of funding before making pitching to investors to ensure that it suits your interests and needs and be sure you alter your pitch to address each investor's interests.
But are you unsure how to fund your startup? We, at NorthInvest, help you to create a mutually beneficial relationship and enable you to turn your business idea into an accomplishable startup. If you're an entrepreneur, contact us today. Help us, help you!
"Startup funding enables entrepreneurs with a sound business plan to succeed, no matter their circumstances."