The Northern Angel Summit
On the 1st of March, we gathered at Nexus, Leeds' hub of innovation and entrepreneurs, to answer some of the most important questions in the Northern investment circuit. Joined by a diverse line-up of industry experts, trade bodies and Russell Group University lecturers, the Northern Angel Summit, a conference delivered by NorthInvest and the UKBAA, welcomed an engaged crowd of angel investors and founders alike to spark conversation around driving economic growth in the North of England. 
Creating a Northern Eco-system
According to recent research by Beauhurst and Praetura, Northern founders are more concerned with their access to regional funding than any other UK region, suggesting that there is a requirement for both public and private organisations to look at how we can plug the Northern finance gap.
With this in mind, when looking at our 2023 event calendar, we set out on a mission to establish more angel investment across the Northern regions through creating a connected eco-system of support that would allow for greater collaboration between angel groups and networks. To achieve this objective, we have teamed up with the UKBAA and the British Business Bank to bring 3 large-scale conferences to the North of England, starting with The Northern Angel Summit in Leeds.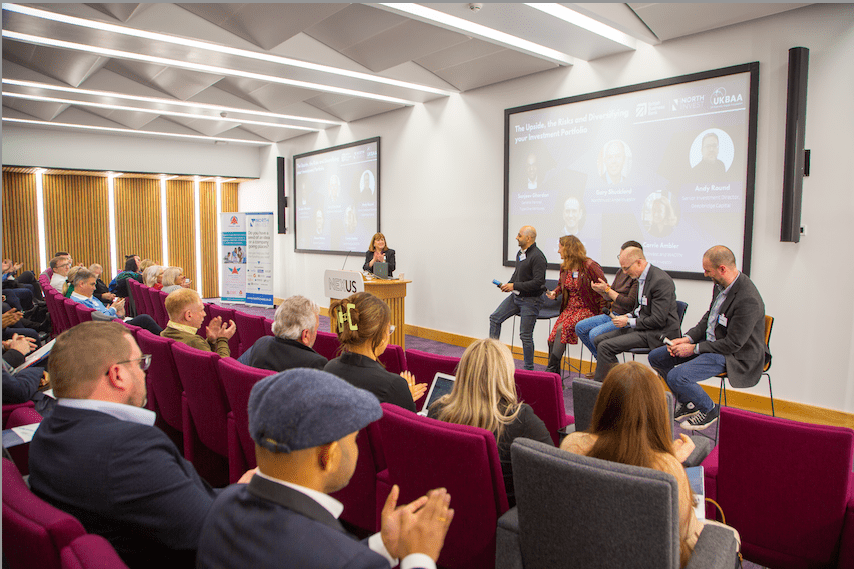 A Thank You to our Sponsors
First things first, we would like to say thank you to our co-host for this event, the UKBAA.
The UKBAA (UK Business Angels Association) is a trade body for angel and early-stage investing that aims to connect the entire investing ecosystem from Seed to Series A. Forming the backbone of the legal, tax, and regulatory best practice system for early-stage investment, the UKBAA committee provides impartial guidance on all aspects of investing to their 650 members.
Thanks to their help, we were able to host this incredible event and bring together an outstanding line-up of panellists.
Welcoming Our Keynote Speakers
After inspiring opening speeches from our Founding Board Members and Directors Helen Oldham, and Jordan Dargue, we welcomed our keynote speakers to the stage.
Henri Murison, CEO of Northern Powerhouse Partnership, kicked off the segment with a talk about his work with NorthInvest and how he sees the Northern investment sector increasing funding from other geographical regions.
"In my opinion, you need to have local entrepreneurs wanting to invest in local business, that makes it a more attractive place for other people to come and create the sort of deal flow that justifies those return tickets to and from London." Henri Murison, CEO of Northern Powerhouse Partnership
Henri's points were then followed by Eve Roodhouse, Chief Officer of Culture and Economy at Leeds City Council, who spoke about her work within the Leeds investment sphere. Starting with the Leeds City Councils Inclusive Growth Strategy, a core economic strategy that focuses on inclusive economic growth amidst the oncoming recession, she then outlined how Leeds City Council is creating programs that will improve communities within the Northern economy.
"The city is alight with excitement around innovation, and that commitment will be embedded into our new inclusive growth strategy." Eve Roodhouse, Chief Officer of Culture and Economy at Leeds City Council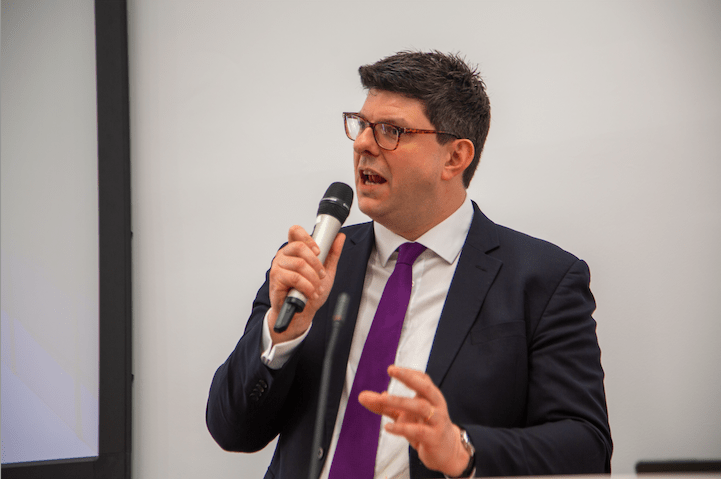 Increasing Education Amongst Female Investors
Jenny Tooth then took to the podium to give us the rundown on how we can increase the level of female-backed investment through education. As the Executive Chair at the UKBAA, Jenny focused her talk on how we can increase female angel investors within the UK. She argued that if more education on portfolios, entrepreneur options, and investor programs were available, then potential angels would have a clearer idea of the risks surrounding investing. Therefore, demystifying the process and bringing down the barriers to involvement.
"We need more players, we need more angels coming out of industries such as science, and technology…being here in Leeds today I can really see the scope of that potential." Jenny Tooth, Executive Chair at the UKBAA
Introducing the Dynamic Duo
After an information-rich talk by Jenny Booth, we then welcomed to the stage the dynamic duo of Henry Whorwood, Head of Research and Consultancy at Beauhurst, and David Foreman, Managing Director and Founder of Praetura Ventures.
Henry Whorewood began by giving some overwhelmingly positive stats showing the current economic growth in the North when compared to London, the UK's current tech hub. Showing how the North and Northeast tech economy is performing better than the UK national average since the end of the COVID-19 Pandemic. Showing how there is ample opportunity to raise the profile of the Northern sector, especially when compared with the national competition.
Henry's points were then elaborated on by David Foreman, Managing Director and Founder of Praetura Ventures, as he gave a whistlestop tour of his latest research "What's Powering the Powerhouse".
In this, David passionately spoke about the high level of opportunity currently available in Northern cities such as Leeds, Sheffield, and Newcastle, strongly building on Henry's earlier statistics. He then argued that in order to evolve these opportunities into a bigger, more tangible economy…
"The whole ecosystem HAS to evolve." David Foreman, Managing Director and Founder of Praetura Ventures
David argued that in order to increase investment, the industry must start shouting about the current positive funding landscape in the North, to really show those Southerners what they're missing by not travelling beyond the London border.
"Success stories bring success" David Foreman, Managing Director and Founder of Praetura Ventures
Panel 1: Why is Now the Time for Angel Investing?
Our first panel of the day was hosted by Jordan Dargue, Director NorthInvest & Founder WAOTN & FHN, who posed the question to the panel as to why it's essential to continue angel investment in the current economic climate. Major talking points included: the misunderstood risks of angel investing, increasing the level of angel investors in the North, and the current information available to angel investors. Conversation flowed between the following panellists:
Roderick Beer, Managing Director, UKBAA
Martin Avison, Founder, Angel Groups
Paul Munn, Partner, Par Equity LLP
Gordon Bateman, CEO, Investor Ladder
David Pearce, Angel Investor
"From my perspective, growing angel investment is about mission-driven investment… I think your point about lowering the barrier to investment is a really important one which I think is partly down to technology" Roderick Beer, Managing Director of the UKBAA
Panel 2: The Upside, the Risks, and Diversifying your Investment Portfolio. 
Sanjeev Gordhan, General Partner at Type One Ventures, was up next as the host of the second panel of the day looking at the main risks involved in angel investment and how the following panellists mitigated them while still creating a diverse portfolio.
Steven Holmes, Business Tax Director, Azets
Gary Shuckford, NorthInvest Angel Investor
Carrie Ambler, NorthInvest & WAOTN Angel Investor
Andy Round, Senior Investment Director, Deepbridge Capital
"I look at things from an opportunity perspective rather than a risk perspective…one thing I have learned is to look for something that can be made into a commodity, such as market disruptors as they have an easier exit strategy." Gary Shuckford, NorthInvest Angel Investor
A Fireside Chat on Investing in Diverse Founders
After two engrossing panels, and one networking-filled comfort break, we then sat down to an important conversation between two leading women in the industry about how we can increase the level of investment in diverse founders. Helen Oldham, Founding Board Member at NorthInvest, and Sharon Kaur Jandu OBE, Founder of the Yorkshire Asian Business Association, came together to discuss how the Northern tech and investment spheres can become more inclusive to start-ups founded by individuals within the British Asian community.
"They haven't been invited… I want to know what's happening so I can feed it back to our members as many of them don't feel comfortable… It's a two-way relationship." Sharon Kaur Jandu OBE, Founder of the Yorkshire Asian Business Association
Sharon Jandu OBE particularly stressed the need to involve female entrepreneurs within this sphere to create a more widespread impact within these communities while also increasing knowledge diversity.
"When you start working with women you are then influencing a whole family and then a whole community. It's really powerful stuff." Sharon Kaur Jandu OBE, Founder of the Yorkshire Asian Business Association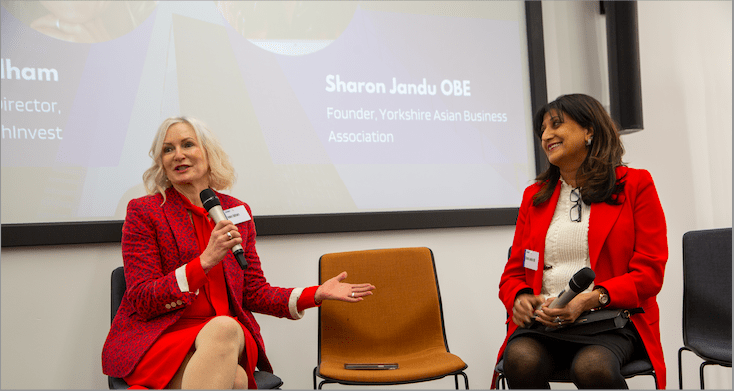 Panel 3: Ethical Impact Investing- How to Build a Portfolio around Sustainable Investing
The last panel of the day was headed up by Amy Piercechod, Partner at Gordons LLP, and covered the topic of how we can start measuring our individual investments' societal and environmental impacts as we move into the future. In a spirited debate, the below panellists discussed the major aspects of creating ethical yet profitable investment discussions.
Paul Beynon, Patent Attorney, Appleyard Lees
Marion Bernard, Chief Investment Officer, Northern Gritstone
Tavia Sparks, Senior Investment Manager, Foresight Group
Iain Clacher, Professor of Pensions and Finance, University of Leeds
"Impact investing is where you are measuring the societal impact of investing… It's a long journey so when you have angels that come behind companies, they are making a difference… we do need to measure it over the long term but the intent is there." Marion Bernard, Chief Investment Officer, Northern Gritstone
Keep an Eye out for our Next Event
NorthInvest is committed to deploying early-stage funding to innovative businesses located in the North of England with the aim of bridging the North/South economic divide. By working with our widespread angel investors and innovative collaborators, we host large and small-scale events across the North to bring the investment conversation to local industries.
For more information on our upcoming pitch events, go to our eventbrite page or head over to the events section of our website.