Flight Club Investor Series 101: Becoming a Lead Investor
27 April 2022 , 1:00 pm

-

2:30 pm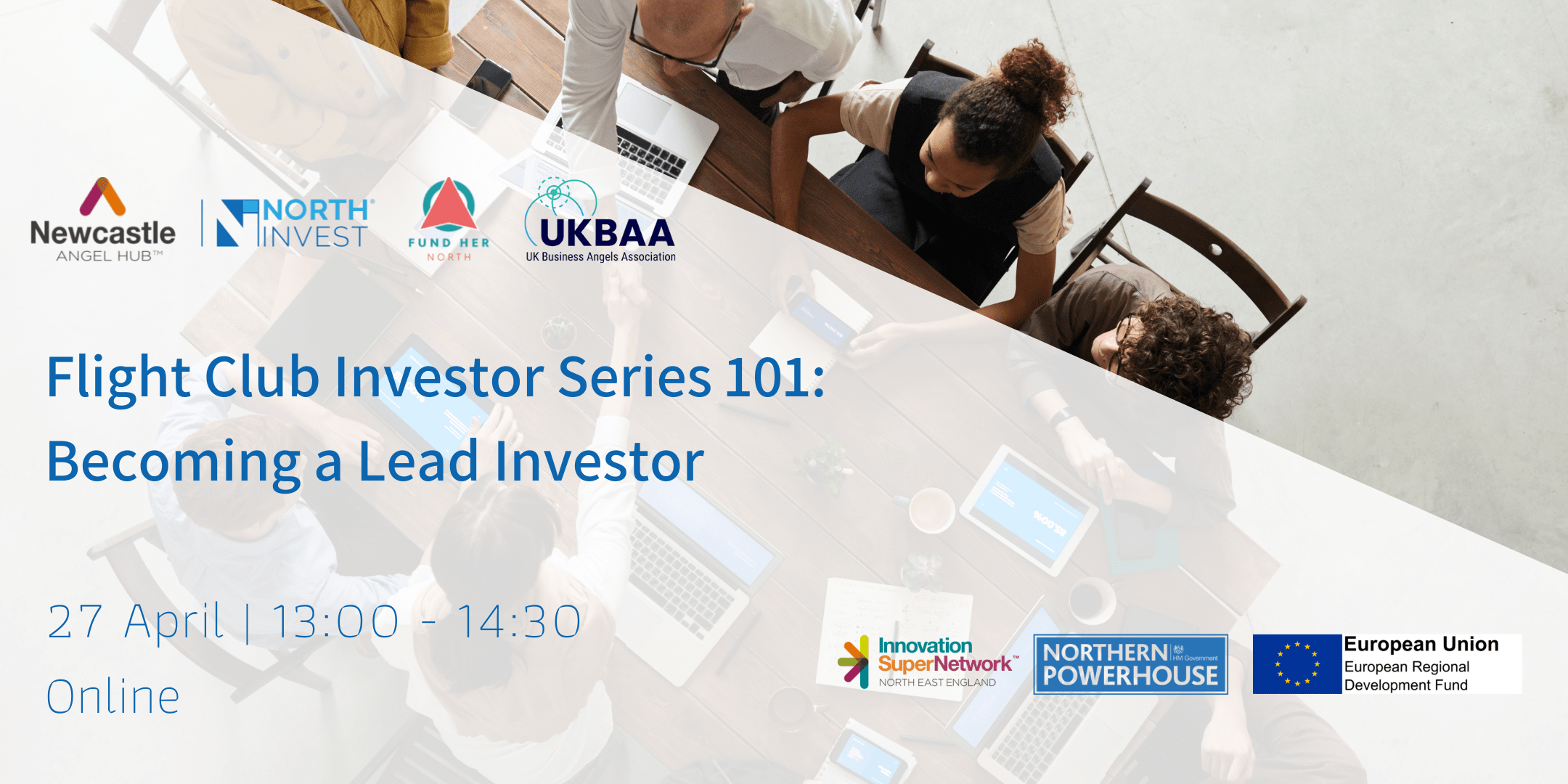 NorthInvest, UKBAA and the Newcastle Angel Hub welcome you to this event to learn about becoming a Lead Investor.
Following the success of Angel Investor workshops hosted last year NorthInvest is excited to launch Flight Club, an educational resource with the purpose of helping prospective business angels to 'spread their wings and take flight', becoming a more confident and educated angel investor.
Delivered jointly with the Newcastle Angel Hub and UKBAA, a revised programme of events will take place throughout 2022 providing a meeting place for new investors to learn from and meet experienced investors, thus helping us to onboard new angels from across the UK.
Becoming a Lead Investor will take place on Wednesday 27th April, 1pm-2:30pm. This webinar will dive into the role of a lead angel and what is expected of them when leading a deal. Lead angels from the NorthInvest, Newcastle Angel Hub and UKBAA networks will be on hand to share their insights on what it takes to lead a round. Legal experts Gordons LLP will also be on hand to share the key legal considerations that must be take into account when leading a deal.
The Newcastle Angel Hub is delivered by the Innovation SuperNetwork and is part-funded by ERDF. The Flight Club Series is also supported by the UK Business Angels Association.
Agenda
1:00pm – Welcome from NorthInvest & Newcastle Angel Hub
1:10pm – An introduction to Lead Investor – Roderick Beer, Managing Director, UKBAA
1:45pm – The key legal duties of a lead angel investor – Stephanie Houghton, Gordons LLP
2:00pm – Panel discussion hosted by Jordan Dargue, featuring lead angels from the NorthInvest, Newcastle Angel Hub and UKBAA networks.
o Jonathan Straight, Angel Investor & Chair/Director for various organisations (NorthInvest)
o Kevin Beales, VP & GM, Allego (Newcastle Angel Hub)
o Sarah Turner, CEO/Co-founder of Angel Academe (UKBAA)
2:25pm – Event roundup
2:30pm – Event Close