Women Angels of the North Conference
30 June 2022 , 10:00 am

-

3:30 pm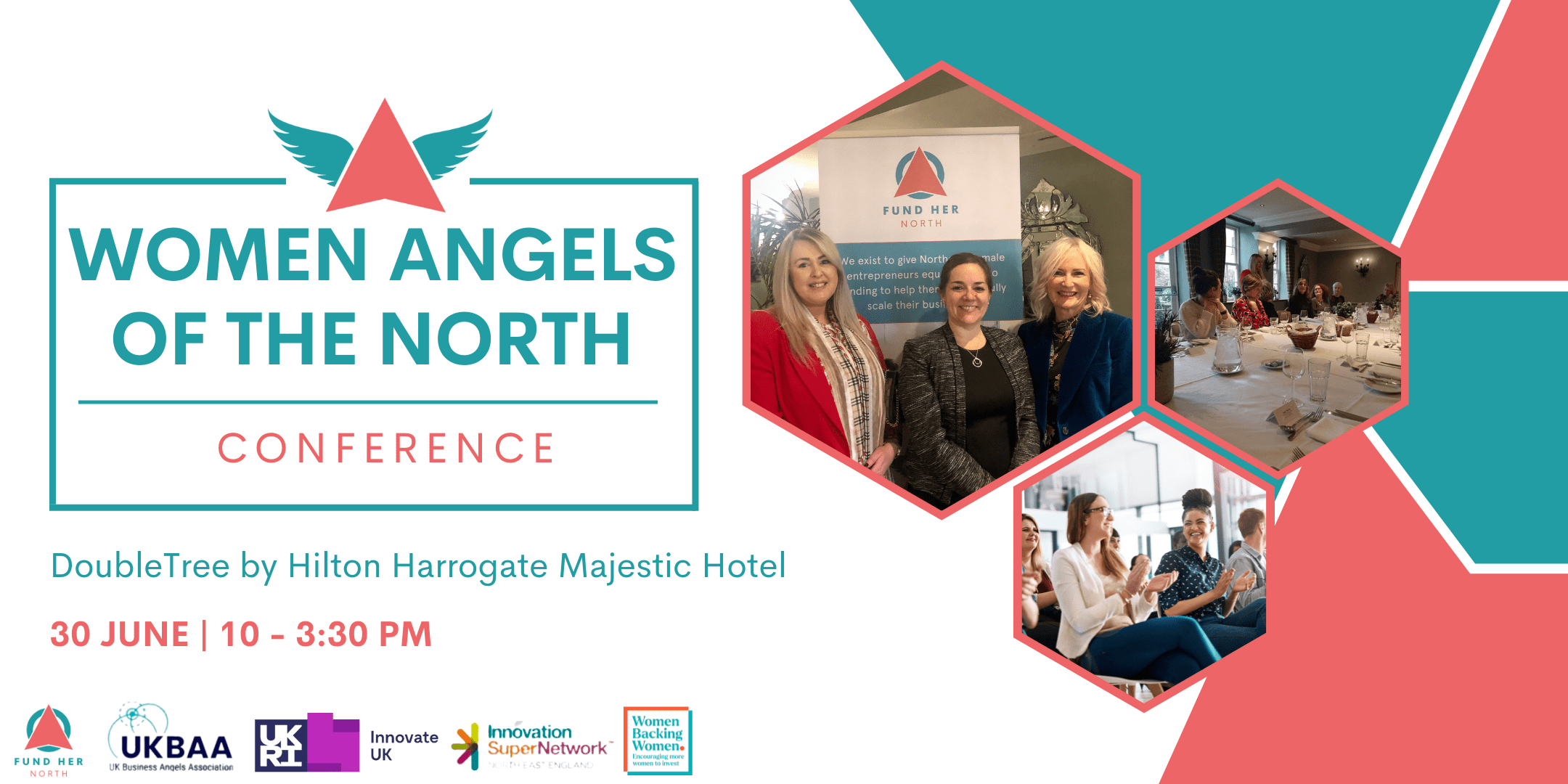 Join us for the Women Angels of the North Conference brought to you by Fund Her North, UKBAA, Innovate UK and the Innovation SuperNetwork!
Did you know the proportion of female angel investors remains between 15-18%?
We want to change this.
Business angel investors provide over £1.5 billion investment annually to UK start-ups and early stage businesses. According to the UK Business Angels Association (UKBAA), over 60% of scale-ups have received angel investment to support their early growth.
However, The Rose Review into Female Entrepreneurship has identified that there is still a market bias against female entrepreneurs who face considerable challenges, with access to finance being the number one barrier. The UKBAA found that a key part of the solution is growing the number of angel investors supported by data which shows female investors make between 30-50% of their investment in female founders.
The FREE to attend Women Angels of the North Conference delivered by Fund Her North, Innovate UK, UKBAA and the Innovation SuperNetwork aims to unlock the power of women as angel investors and amplify the national Women Backing Women campaign.
Join leading women in the investment landscape to explore how angel investing works and the impact of having more women investors in the North. This event seeks to break down the barriers of angel investing by dispelling myths and highlighting the benefits of this asset class.
You will hear from leading UK private and angel investors, leading economists, investment analysts, fund managers and policy makers. As an attendee you will gain insight on future trends, join the discussion on how we can all drive diversity across the investment landscape, as well as meet other investors and like-minded people. In addition you will hear directly from female entrepreneurs that have been supported by The Women Angels of the North syndicate, on the need for more women angel investors and improving the gender balance in the early stage ecosystem in the UK.
This event will provide the perfect setting for hearing from experienced women angel investors, investment and wealth experts on how to navigate the world of angel investing and how you can become a part of the success of early stage business growth.
About Fund Her North:
Fund Her North is a Northern-based, volunteer collective of over 28 women (in VC's, funding organisations and angel groups), with a combined investment power of over £650 million. Each of the members of the Fund Her North collective has already made a lasting effect on female entrepreneurs in the North, with a combined investment track record of over £160 million invested in female-led, start-up businesses.
Fund Her North exists to give northern, female entrepreneurs equal access to funding to help them successfully scale their businesses. This is through providing connections, education, and by holding their hands through the funding raising process. Fund Her North supports women founders through every stage of their growth journey, through start up, to scale up and exit. As a first of its kind in the region, Fund Her North has built a network of over 200 members and a 30-strong Women Angels of the North syndicate to support female founders operating across the innovation and creative sectors in the North with access to investment.