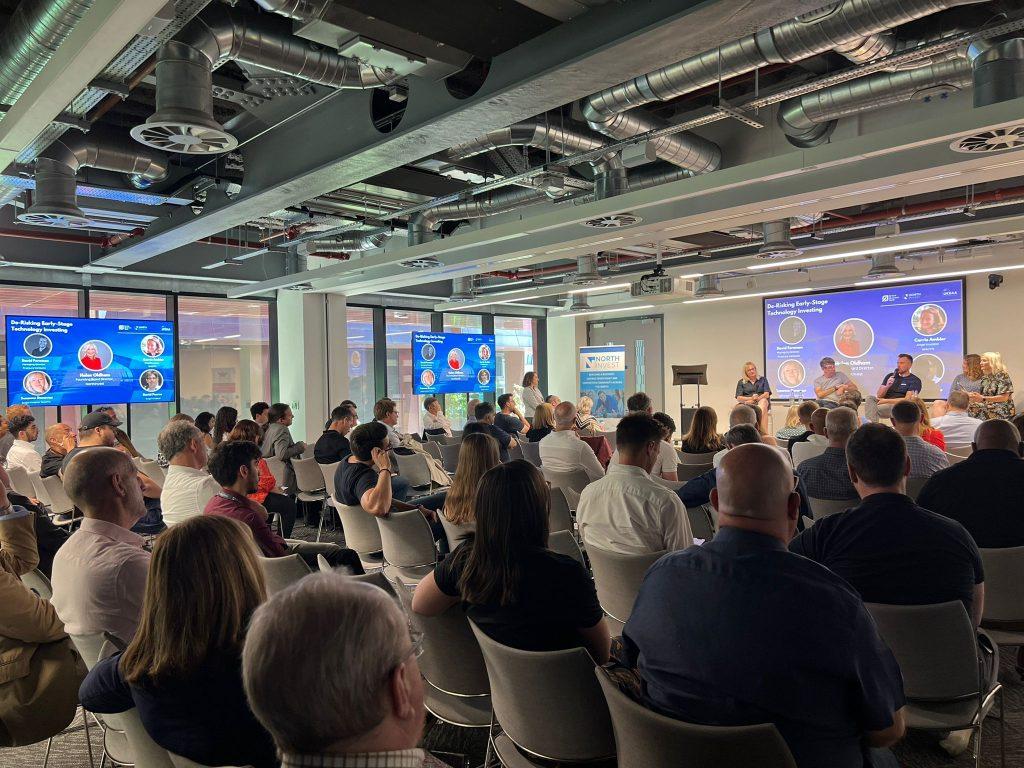 On 15th June we joined together at No.1 Circle Square in Manchester to discuss some important topics centred around investment in the North. We were joined by a range of industry experts, at our Manchester conference which was held in partnership with UKBAA and Manchester Angels. We had a mixture of mainly angels investor and prospective investors join the conversation around driving more economic growth in the North of England.
Recent research from Beauhurst and Praetura found Northern Founders think their region lacks early-stage start-up funding and they like their investors to have a presence. This suggests that there is still a requirement to push the Northern finance gap.
To achieve our objective and mission statement of building a buoyant, diverse investment and innovation community across the North, we have teamed up with the UKBAA and the British Business Bank to deliver our conferences across the North of England.
Thank you
We would like to say a big thank you to our co-hosts for this event, the UKBAA and the British Business Bank for helping us deliver this event – and to all our attendees who managed to join us.
Introduction
Jenny Tooth OBE, Executive Chair (UKBAA) and Henry Whorwood, Head of Research and Consultancy (Beauhurst) set the scene with Statistics around Angel Investing in Greater Manchester and the North. They both showed there is a great opportunity to raise the profile in the North compared to other regions in the country.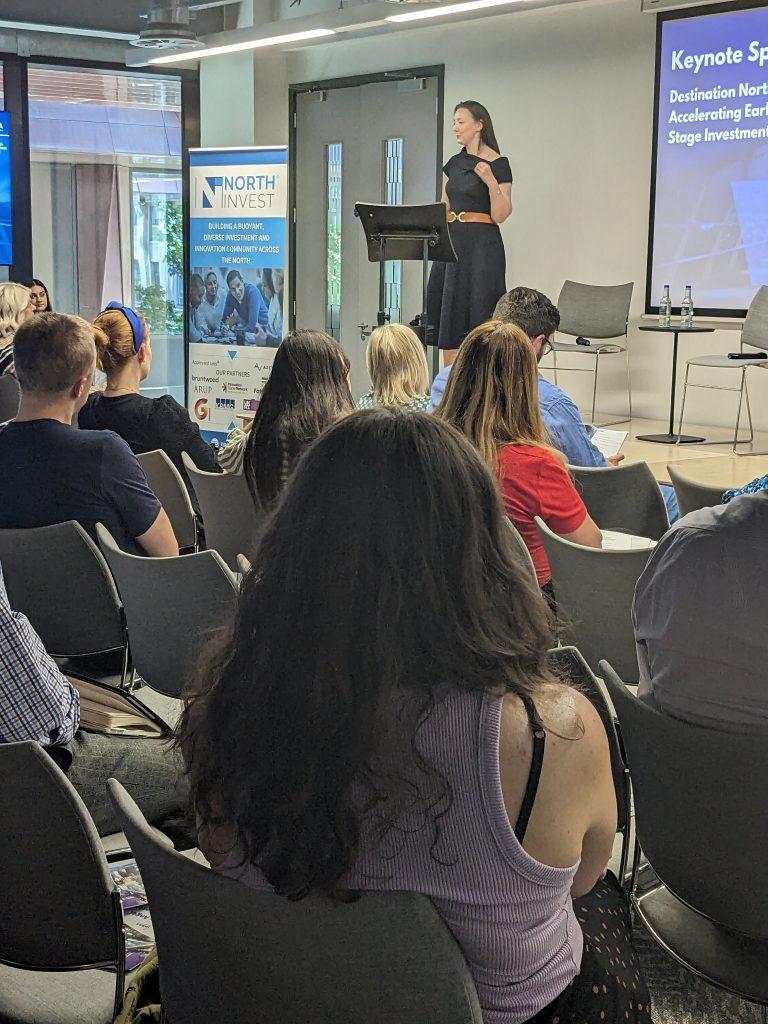 Keynote Speaker
We welcomed Claire Lewis, CEO of Baltic Ventures to the centre stage. The audience was captivated by her talk on accelerating early-stage investment in the North. She also disclosed details of her early-stage tech programme and how each successful applicant will receive equity backing and access to a mentoring service.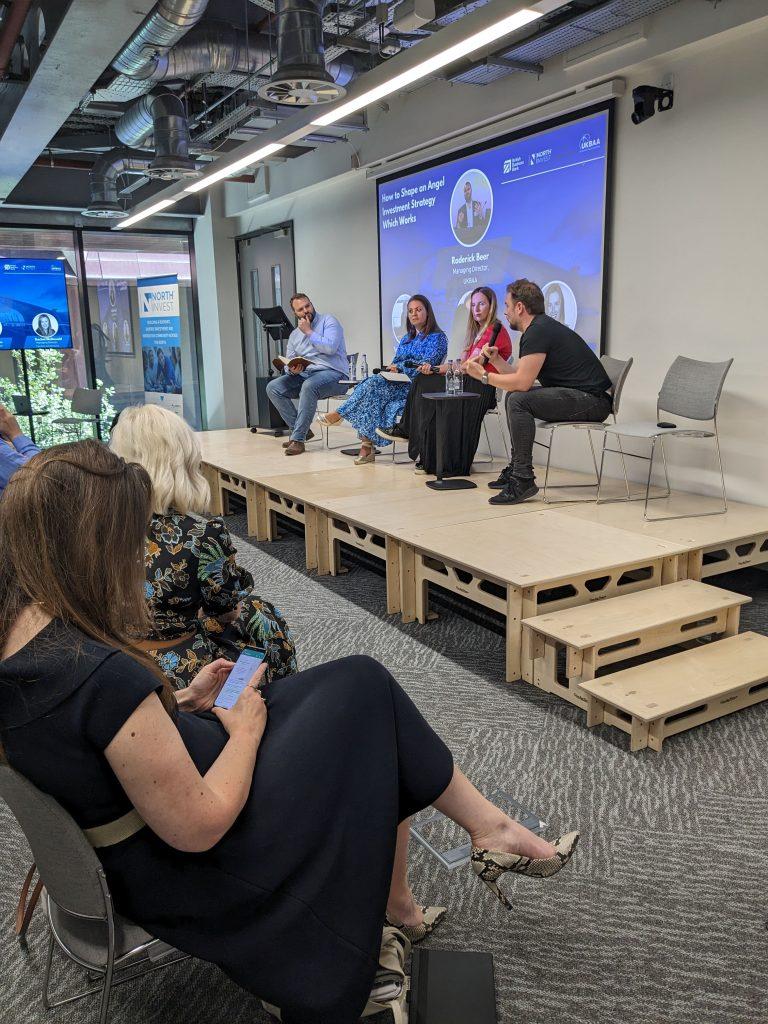 Panel Speakers
Following Claire's discussion, we were joined by our first panel of speakers David Foreman, Managing Director of Praetura Ventures and angel investors Carrie Ambler, Suzanne Donovan and David Pearce. They opened up the conversation about 'De-risking early-stage technology investing with Helen Oldham. The audience joined in with questions asked towards the end of the discussion.
Sophie Dale-Black, Director (The BBB) jumped to the stage to provide a background into imbalances in accessing finance and how the Regional Angels Programme helps reduce imbalances in accessing early-stage equity finance for small businesses across the country.
The second panel led by Roderick Beer, Managing Director (UKBAA) went into detail about 'How to Shape an Angel Investment Strategy Which Works'. He was joined by Andy Barrows, Partner at Pratura Ventures, Kaite Nicholson, LCR Director and angel and Rachel McDonald, Managing Director from Fearless Ventures.

The third and last panel of the event was hosted by David Levine, Principal of Manchester Angels. He was joined by Claire Lewis, CEO of Baltic Ventures, Mark Shirman at GC Angels and two angel investors Chris Gill and Tim Dempsey. They went into detail about how to start investing as an angel based on their experiences.
Claire stated "I would recommend finding out who you want to work alongside and other angels you want to syndicate with. Every angel I know kind of goes on a journey and where they kind of started off – they may have a particular idea of what they want to invest in".

Claire Lewis, Baltic Ventures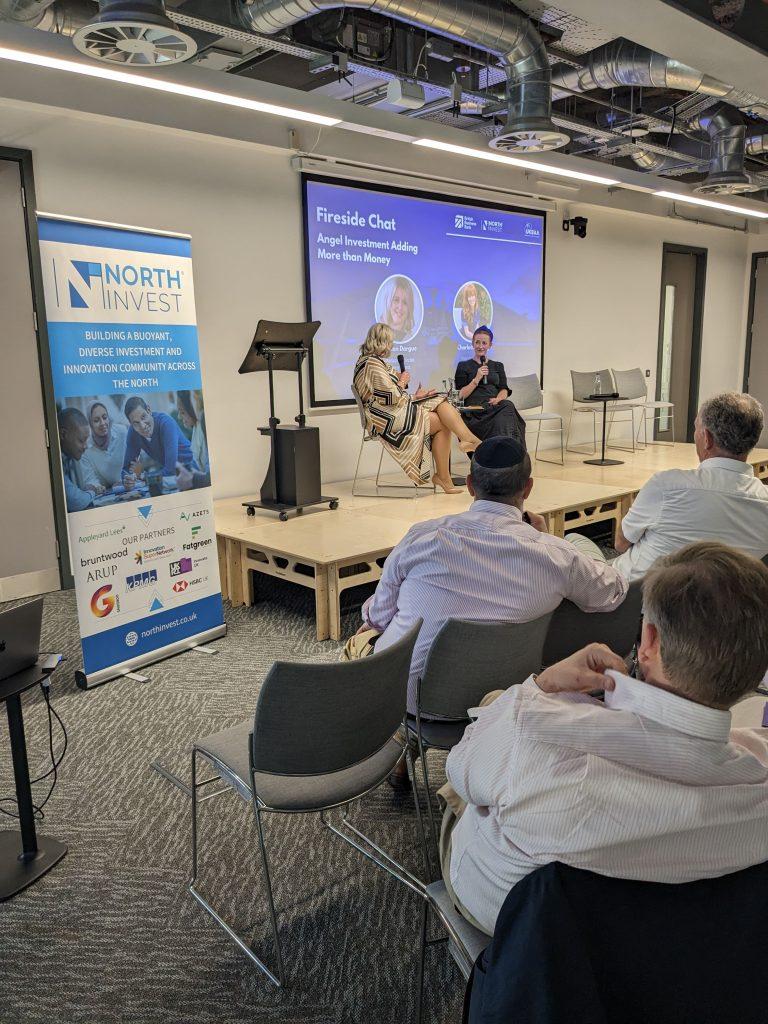 Fireside Chat with 'thelittleloop'
After these enticing panels, we all sat down to hear the story behind Founder Charlotte Morley from thelittleloop a Great British Sustainability Entrepreneur of the Year 2022 and a record-breaking Dragon Slayer.
She launched her children's clothing rental subscription – which counts Steven Bartlett and Deborah Meaden among its investors – in 2020, after leaving her role as Head of Digital Product at Notonthehighstreet. Since then she's built a community of 20,000 committed parents and 20 brand partners (including John Lewis). And, with a growth of almost 500% in 2022, she is well on the way to building the best way for parents to dress their children.

One VC recently described Charlotte as "one of the most backable founders we have come across, with a clear vision, humility and purpose." The audience listened intently to hear Charlotte's thoughts about why angel investing is more than adding money.
Lookout for our next Summit
NorthInvest is committed to deploying early-stage funding to innovative businesses located in the North of England with the aim of bridging the North/South economic divide. By working with our widespread angel investors and innovative collaborators, we host large and small-scale events across the North to bring the investment conversation to local industries.
For more information on our upcoming pitch events, go to our eventbrite page.