Fund Her North – Exit Readiness: What You Need to Consider
21 October 2021 , 12:00 pm

-

1:30 pm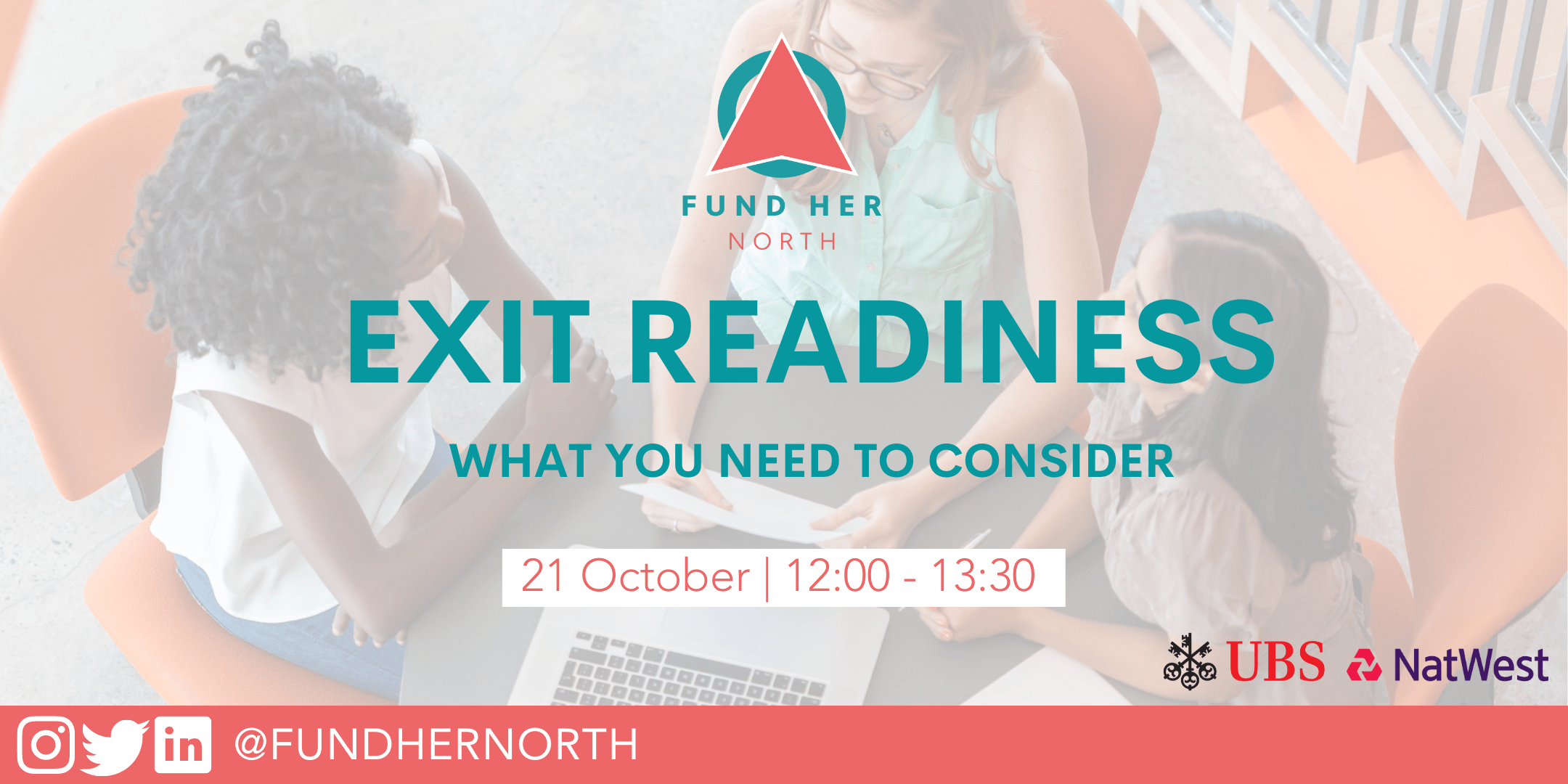 Fund Her North invites you to understand the process of exit readiness and explore the most appropriate strategy for your business.
Fund Her North provides a unique opportunity to learn about the key stages of funding for your business. You will meet the female funders associated with Fund Her North, guest speakers who have recently completed their first fundraise, and highly successful founders with significant investment and exit experience.
This event will involve a panel of expert guest speakers and an opportunity to chat with some of our funders and ask your questions in informal breakout rooms.
We hope to see you there!
Format
12:00 – Welcome & Introduction to Fund Her North
12:05 – What to consider if you are thinking of exit
12:15 – Q&A Discussion
12:30 – Speaker Panel
12:55 – Meet the Funders
13:30 – Close
Guest Speakers
To be announced soon…
Our Funders
Laura Sission – YFM
Carolyn McGregor – NEL Fund Managers
Samantha Piddington – Deepbridge Capital
Sarah Hex – Mercia Asset Management
About Fund Her North
Fund Her North began as a collective of over 28 women in finance with combined investment power over £450m in the North of England with the aim to empower female founders. We're united in tackling the many barriers facing women accessing investment.
Fund Her North is a unique community of vocal, influential women investors and successful, inspirational entrepreneurs.
Fund Her North provides a safe place for women entrepreneurs.
Whether you are just starting or looking to scale your business, we have the network you need to navigate the complex investment landscape.
https://fundhernorth.com/
Disclaimers:
Personal Data:
This event is organised and hosted by Fund Her North. As such, personal data entered on registration will be shared between the organisations that form the collective to ensure the best possible event experience. To find out more about who is part of Fund Her North, please visit https://fundhernorth.com/about